Tompkins to host a virtual seminar for first-time home buyers on October 26 | Ithaca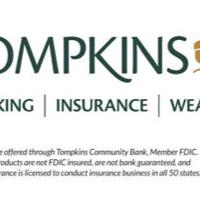 ITHACA, NY, October 24, 2022 – Tompkins Community Bank is committed to supporting the communities in which it operates, especially as individuals make critical life decisions such as buying a home. To help, Tompkins will be hosting a virtual First Home Buyers Seminar for potential buyers in Tompkins County, Cortland, Auburn and Syracuse. The free workshop is open to the public and will take place on Wednesday, October 26 from 12:00 p.m. to 1:00 p.m.
Founded in 1836, Tompkins Community Bank serves the central, western and Hudson Valley regions of New York and the southeastern Pennsylvania region. Thanks to its unique local decision-making model, the bank offers personalized service and exceptional responsiveness, while offering a wide range of products and services to individuals and businesses. Insurance services are offered through Tompkins insurance agencies, and wealth management services are available through Tompkins financial advisors.
The seminar, part of Tompkins' Community Event Series, will provide information to help first-time home buyers navigate the various programs and services available to help start a home and the home buying process. start to finish.
Attendees will learn from Tompkins experts including Residential Mortgage Manager Stacy Merrill, Kristina Dresser, Bonnie Osadchey, Stephanie Klym, Laurie Anania and Chris Kelly, and Residential Mortgage Sales Associate Dustin Patte as they review the ins and outs. of the home buying process. The expert-led event will include a Q&A with attendees and a discussion of special products and services for first-time homebuyers.
"There are a lot of questions surrounding the home buying process, especially for first-time home buyers," Merrill said. "Navigating the process for the first time can be extremely exciting but overwhelming, which is why we want to prepare first-time buyers with the resources they need to confidently navigate the homeownership journey."
To register, go to: webinar.tompkinsbank.com/first-time-homebuyer-cny