Takeaways from Spring Training #6, Ohio State Press Conferences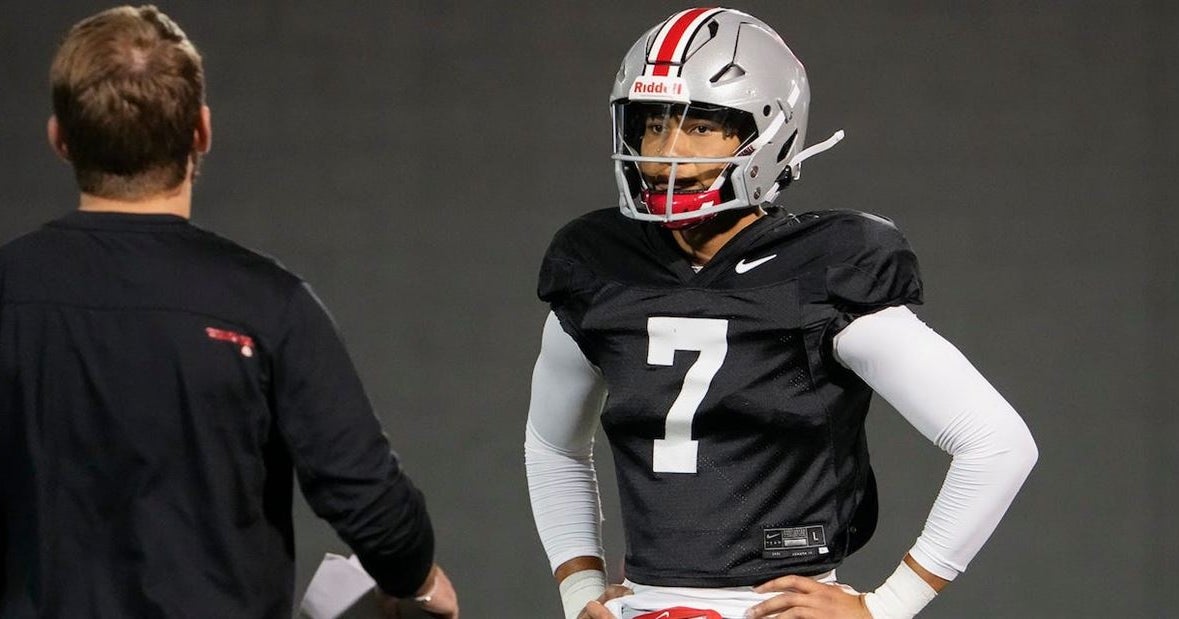 While the Ohio State head coach Ryan Day said on more than one occasion Tuesday that the Buckeyes were 'only' through six spring football practices, the truth is that Scarlet and Gray are almost halfway through their share of NCAA sessions at this time of year.
Ohio State is now in the team's second week of padded practice, which means it's about as real as it gets for the Buckeyes at this time of year. With just over half a month until the spring game, which marks the end of coach-led football drills until August, Day and Scarlet and Gray should have a pretty good idea of ​​how things are going. are happening at this stage.
Tuesday marked this sixth spring training for Ohio State. The first three periods, as well as the warm-ups, were open to members of the media, meaning stretches and various positional exercises were on display. As the Buckeyes began team drills, members of the media were kindly escorted off the practice field at Woody Hayes Athletic Center. (Bucknuts' practice report can be found here.)
After practice, Day, defensive coordinator Jim Knowles and offensive coordinator and tight ends coach Kevin Wilson each spent around 30 minutes answering questions from the local media, covering a wide range of topics about the team and their side of the ball. (You can watch Day's full press conference here and Knowles' here.)
Our team writers Dave Biddle, Patrick Murphy and Steve Helwagen were on hand for both practice and press conferences. After the two were done, Biddle and Murphy hosted a live video to discuss what happened at WHAC.
Subjects included:
Cade shortsis back to the tight end

The "Jack" position for the Buckeye defense

How Knowles' defense may have to adapt at Ohio State and the Big Ten

How Knowles' defense defies the Scarlet and Gray offense this spring

C.J. Stroud takes his game to another level

Josh Proctor is recovering well from his leg injury

Other defensive backs the Buckeyes like so far this spring

Ohio State coaches are pretty optimistic on the offensive line
What's next for the Buckeyes? Make sure you know — take five seconds to sign up for our FREE Buckeyes Newsletter now!
Want the latest scoop and news on the Buckeyes? Try our 7-DAY FREE TRIAL AND BECOME A BUCKNUTS SUBSCRIBER!
You can watch a replay of the video above, but be sure to like Bucknuts on Facebook, subscribe to our youtube channel and follow Bucknuts on Twitter in order to watch these videos live and ask questions and comment during the video, as well as see more of our content.