Service Leadership Seminar teaches students to be community leaders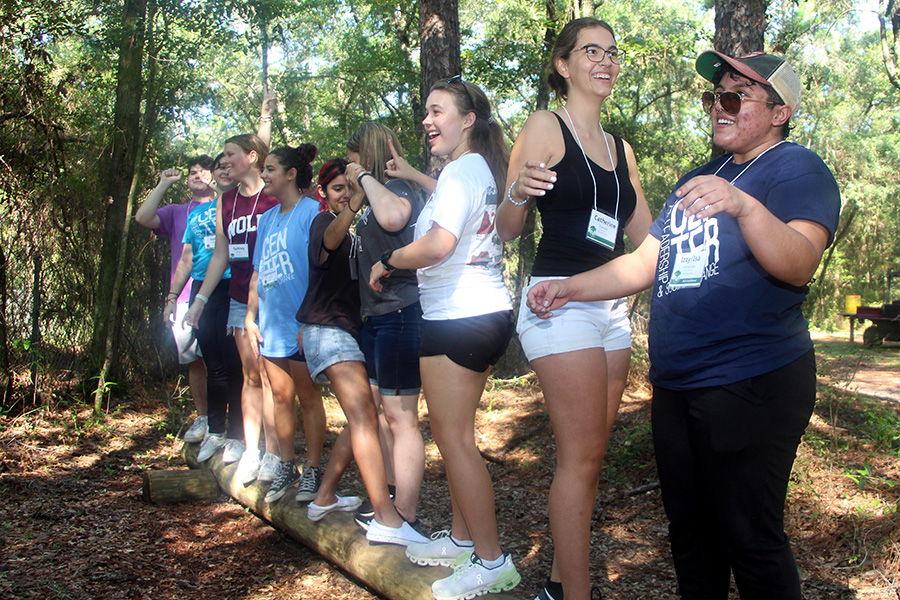 A group of incoming freshmen at Florida State University learned to be leaders as they served their new community at the Service Leadership Seminar (SLS), a week-long event coordinated by the Center for Leadership and FSU's Social Change.
SLS is an opportunity for freshmen to learn about community service, identity, and leadership by participating in projects, workshops, team-building activities, and interactions with current leaders of the campus.
This year's seminar kicked off at FSU Lakefront Park, a 73-acre facility on Lake Bradford. The group of around 25 students took a low-challenge course that involved balancing, jumping or climbing on special structures. These exercises serve as the foundation for building effective teamwork, which the participants would need for the rest of the week.
Izzy Hernandez, a senior specializing in business entrepreneurship, attended SLS as a freshman and has returned as a facilitator each year to "learn more and give back."
"I learned a lot of mind-blowing things that I had never thought about before, like intersectionality, different parts of my identity, understanding community service, and being actively involved," Hernandez said. "Every year as a facilitator I feel like I learn more, and I want to be able to give that back and teach people what I learned. It's also fun.
The second and third days of the week-long event consisted of various small groups and workshops, all intended to give students a better understanding of their identity, the identity of others, leadership and how they intertwine.
Students also volunteered at Second Harvest of the Big Bend, the area's leading charity food source, and the Omega Lamplighters Youth Center, a leadership organization for young men in grades 4-12.
Another highlight of the week included a morning of learning and service at the Seminole Organic Garden, a shared garden space on campus.
The students wrapped up their SLS journey on Friday with presentations about what they learned and what their main goal is for their time at FSU. Freshman Pacey Cheesebrough says his SLS experience positively changed his mindset and personal goals.
"The first words that come to mind are 'grateful' and 'privileged,'" he said. "It was an honor to be surrounded by both like-minded people and at the same time people with different mindsets and cultural backgrounds. It was a great exposure to new ideas for me.
To learn more about SLS and the Center for Leadership and Social Change, visit thecenter.fsu.edu.