Pecan and Raised Bed Seminar scheduled for April 7 | News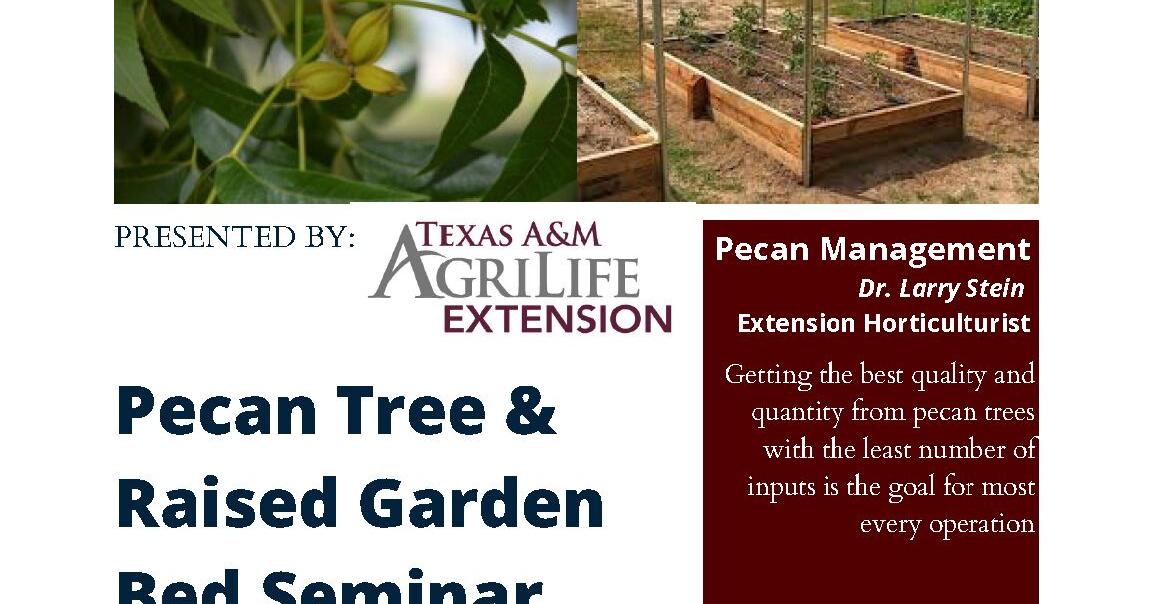 Texas A&M AgriLife Extension Service to Host Pecan Tree and Raised Garden Bed Seminar for West Texas Counties on April 7and. The event will be streamed virtually to multiple in-person sites across the region for attendees to learn more about managing their pecan trees and the benefits of raised bed gardening.
From getting the best quality and quantity of pecan trees with the fewest inputs, to how raised garden beds provide the opportunity for gardening success anywhere there is good sunlight. available.
The program will be presented via Zoom on the various hosts located in the western region of AgriLife Extension. Registration will begin at 5:30 p.m. and the program will begin at 6 p.m. The cost of the program will be $15. Participants are requested to confirm their attendance before 5 April. (Read more below…)
Two Texas Department of Agriculture continuing education units – one general, one integrated pest management – ​​will be offered.
The Coleman County meeting will be held at the Coleman County Courthouse, located at 100 W. Liveoak St. (Read more below…)
Dr. Larry Stein, AgriLife Extension Horticulturist, will present how getting the best quality and quantity of pecans with the least input is the goal of most homeowners. Learn more about fertility management and controlling major pecan pests.
Gail Eltgroth, Highland Lakes Master Gardener, will discuss the benefits of raised beds. Interest in setting up a home vegetable garden has been stimulated by food shortages or the uncertainty of ongoing supply problems. Whether you are a beginner gardener or someone who has planted vegetables in the past, this seminar will help you get started planting.
This program promises to offer something to everyone who participates, regardless of your experience. So mark your calendars for April 7 at 5:30 p.m. and let us help you improve your pecan and vegetable garden goals.
If you have questions and to RSVP before April 5, contact the Coleman County Extension Office at (325) 625-4519. SEE ATTACHED SHEET