Patti Engineering, Siemens Solutions Partner, to Present Seminar on Digitization at Siemens Realize LIVE Conference in Las Vegas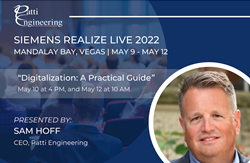 "Like Patti Engineering, Siemens is at the forefront of digital transformation in manufacturing," said Sam Hoff, CEO of Patti Engineering. "I can't wait to share a how-to guide to scanning at the Realize LIVE event."

AUBURN HILLS, Mich. (PRWEB)
May 03, 2022
Patti Engineering, Inc.a leading control systems integration company based in Auburn Hills, MI with offices in Texas and Indiana, today announced that Sam Hoff will participate in two presentations and an industry panel discussion at the conference. Siemens Realize LIVE in Las Vegas, NV on May 10 and May 12, 2022.
the Siemens Realize LIVE The conference will be held in Mandalay Bay, Vegas from May 9-12, 2022 and will feature industry leaders from across the country who are applying Siemens solutions to transform and create a more sustainable future. This event will also include innovative keynotes, enriching technical sessions and various networking opportunities.
"Like Patti Engineering, Siemens is at the forefront of digital transformation in manufacturing," said Sam Hoff, CEO of Patti Engineering. "I can't wait to share a how-to guide to scanning at the Realize LIVE event."
On Tuesday, May 10 at 4:00 p.m. PT and Thursday, May 12 at 10:00 a.m. PT, Hoff will present "Digitization: A Practical Guide" in Breakers Ballroom G. Hoff will discuss how competitive pressures are shrinking margins on sales of new products and how today's leading manufacturers are increasingly developing service-based offerings as a new source of revenue and to provide competitive advantage.
Hoff will also participate in an industry roundtable titled "Digitization Journeys for Industrial Machinery Companies" at 1:30 p.m. PT at Reef B. The roundtable will discuss edge/cloud computing, track, trace, and real-time location systems (RTLS), digital twins, robotics, data analysis, etc. Participants will also discuss impactful steps to take now for facilities at all stages of the digitization process.
Click here to learn more and register.
Patti Engineering has a proven track record of successful results across a wide range of industries. Customer satisfaction and project success have earned the company 2013 Control Engineering Magazine System Integrator of the Year', and placement in the Control Engineering Magazine Hall of Fame. Patti Engineering is a six-time CSIA-certified control systems integrator and a trusted partner to many automation technology companies. Patti Engineering partners with many world class automation technology companies including Siemens, Mitsubishi, FANUC, Ignition, ifm and B&R Automation.
About Patti Engineering, Inc.

Patti Engineering integrates cutting-edge technology into world-class industrial facilities so businesses run faster, smarter, and more reliably. Recognized by the world's top engineers, Patti Engineering has earned top rankings and accolades from the biggest names in systems integration: Siemens, FANUC, Mitsubishi Electric and CSIA. Patti Engineering, Inc. provides high caliber engineering and software development services. With technique skill in electrical control and information systems, Patti Engineering provides turnkey control system integration for design/build, retrofit/renovation and asset/energy management projects. Customer satisfaction and project success earned the company an internship in Control Engineering Magazine Hall of Fame. For more information, visit Patti Engineering website, LinkedIn, Facebook, Twitter and Youtube.
Share the article on social networks or by e-mail: