NWN Carousel and Webex by Cisco to Offer Remote Global Press Conferences at Laver Cup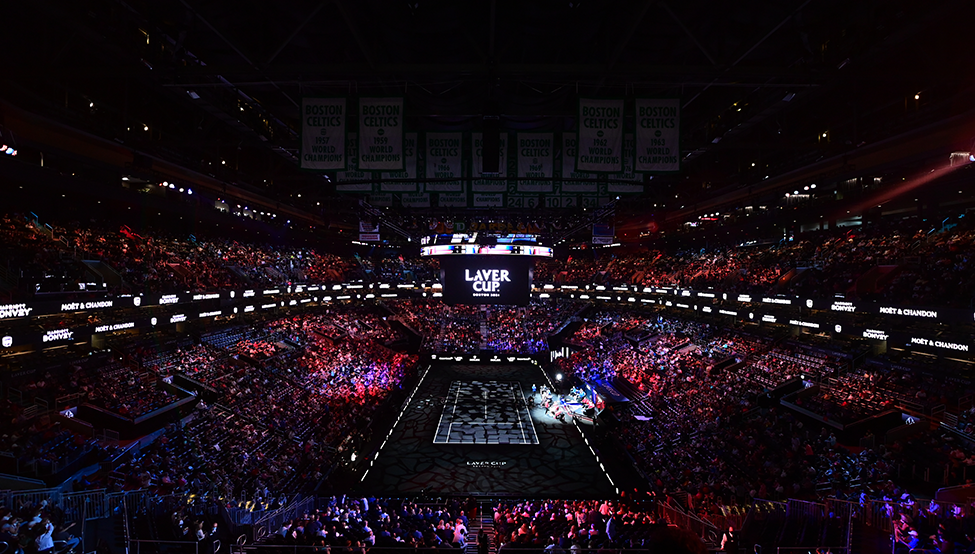 The World's Best International Men's Indoor Team Tournament Will Leverage NWN Carousel to Power Communications for International Media Connecting with Some of the World's Best Players
WALTHAM, Mass. — September 23, 2021 — NWN Carousel, the leading provider of integrated cloud communications services, today announced that it is sponsoring the Laver Cup Boston 2021 with Cisco, which will provide the cloud communications infrastructure for the three-day event in Boston, Massachusetts, September 24-26, 2021.
In partnership with Webex, NWN Carousel will deliver an immersive press conference experience to domestic and international media throughout the prestigious event in Boston, one of the world's greatest sports cities.
"The Laver Cup is a truly global event and we are thrilled to partner with NWN Carousel who will help connect the tournament with media and broadcasters around the world," said Laver Cup CEO Steve Zacks. "This remote press conference and interview solution provides unprecedented access to players and captains and all the action from Boston's TD Garden to media wherever they are in the world."
The Laver Cup has captivated fans around the world since its premiere in Prague in 2017. The unique format pits six of Europe's top players against six of their counterparts from the rest of the world. Tennis legends Bjorn Borg and John McEnroe will captain Team Europe and Team World respectively.
Team Europe includes new US Open champion Daniil Medvedev, Olympic gold medalist Alexander Zverev, Wimbledon runner-up Matteo Berrettini, Australian Open semi-finalist Stefanos Tsitsipas, No. world champion Andrey Rublev and Norwegian rising star Caspar Ruud. Team World includes the greatest server in men's tennis, John Isner, fellow American Reilly Opelka, US Open semi-finalist Felix Auger Aliassime and fellow Canadian Denis Shapovalov. Australian Nick Kyrgios completes Team World.
"We are thrilled to be the official cloud communications provider for the Laver Cup, the world's most unique international team competition in tennis, in the City of Champions," said Jim Sullivan, CEO of NWN Carousel. "NWN Carousel is uniquely positioned to provide a wide range of cloud communication solutions that will create a great experience for seated fans, media covering the event, as well as Team World and Team Europe."
NWN Carousel has partnered with Cisco to transform the international newsroom from a live experience into a seamless remote media event. With many media now unable to cover live events due to travel restrictions, providing remote access is a crucial part of connecting and engaging media, broadcasters and fans regardless of location. Using the Webex Platform for Unified Communications, NWN Carousel and Cisco will provide the technology to livestream the event, allowing international and local media to dynamically see, hear and speak with players, as if they were in the same room.
"With Webex, media can virtually connect with gamers by bridging in-person interactions with digital connections to deliver a truly blended experience," added Aruna Ravichandran, vice president and chief marketing officer, Webex Collaboration, Cisco. "We are proud to advance inclusivity and enable closer collaboration through the hybrid event at Laver Cup."
About NWN
NWN Carousel is the leading Cloud Communications Service Provider (CCSP) focused on transforming the customer experience and workspace for commercial, enterprise and public sector organizations. We deliver hybrid work experiences to millions of users across the top 7,000 organizations in North America. Our integrated devices, communication apps, AI-enabled contact centers, network, security and analytics enable our customers to learn, discover, work and connect from anywhere, all delivered as an easy-to-use and manage cloud service. To learn more about our solutions, visit www.nwncarousel.com
About Webex by Cisco
Webex is a leading provider of cloud-based collaboration solutions, which include video meetings, calls, messages, events, customer experience solutions like contact center, and purpose-built collaboration devices . At Webex, we start with people and their experiences first. This focus on delivering inclusive collaborative experiences fuels our innovation, which leverages AI and machine learning to break down barriers of geography, language, personality and familiarity with technology. Our solutions are built on security and privacy by design. We work with the world's leading business and productivity apps, delivered through a single app and interface. Learn more at webex.com.
# # #