Fall and winter floral workshops are on the rise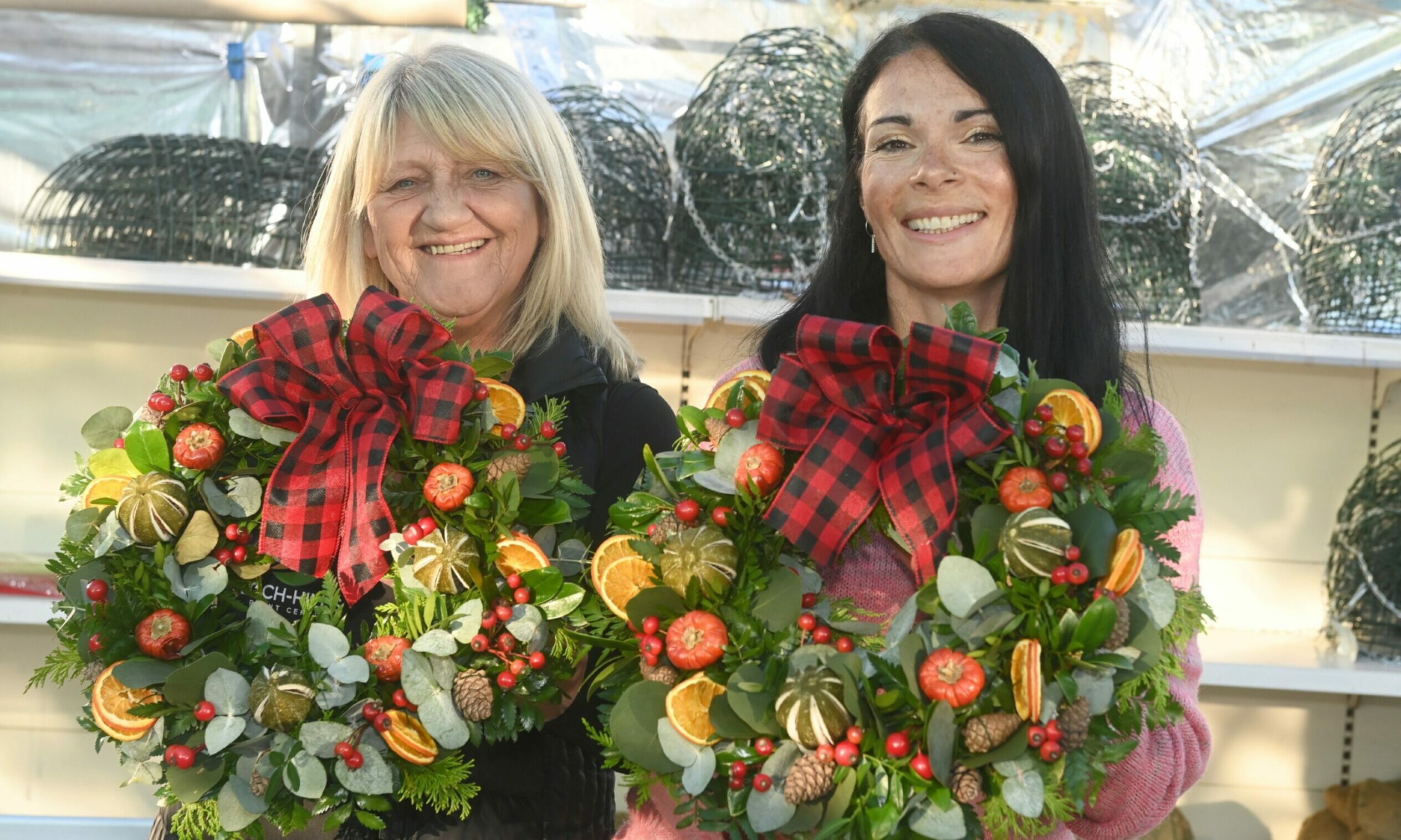 The wonderful aroma of eucalyptus, orange and pine fills my nostrils as I enter the greenhouse.
Sunlight streams through the windows and, even though it's November, it's so hot here that I quickly find myself shedding layers of clothes.
I came to Loch-Hills Garden Center on the outskirts of Ellon in Aberdeenshire to take part in one of the recently launched flower workshops.
From hand-tied bouquets to table decorations, wreaths and more, the workshops are designed for absolute beginners, and they'll arm you with all the skills you need to head out and make your own creations at home.
The plan — for me — is to make a fall wreath under the watchful eye of Center Director Carolann Topp, who is a talented florist and horticulturist to trade.
"I already made 15 crowns for a fair today!" Carolann beams. "Two more harvest-themed shouldn't take too long!"
Those who sign up for the "real" workshops will dedicate half a day to the cause with presentations to fellow attendees, demonstrations by Carolann and a sumptuous lunch.
Discovery session
On the other hand, I am entitled to a kind of "tasting" session, and because it is a one-on-one with Carolann, I will accelerate it much more quickly.
We start with "oasis" rings, plastic trays filled with water-absorbing floral foam on which we will create our fall compositions.
Once we have attached some pieces of string, so that we can hang them later, Carolann shows me how to cut pieces of leylandii to size and shape it, before gluing it to my oasis.
"That's what I call giving him a haircut!" she smiles. "Some of them are too big – they shouldn't stick out too much, but you're doing a great job!"
Build layers
The goal is to hide the rather unsightly oasis with foliage, and we build layers of greenery from the base, adding different varieties of ferns, eucalyptus, and a few sprigs bearing colorful berries.
"I foraged most of the foliage around Lochhills," Carolann tells me. "It's great to be able to use what's right here at the door.
"We'll add what we can, repeating patterns until we've filled in the gaps. You will hear me repeat myself a lot! "That's because most of floristics is repeating patterns and 'frame' – filling the frame."
Before adding eucalyptus to the mix, we spray our wreaths with a special "leaf gloss".
This makes them nice and shiny, but also adds moisture to the leaves, which will make them last longer.
Nice base
Once we have a nice base layer of foliage, we add a few blood-red rosehip berries, being careful not to get pricked by the sharp thorns.
Alas, I do indeed get stung and spout some rather unworthy profanity while doing so. Ouch!
Next, we decorate our wreaths with dried habanero peppers, which look like miniature pumpkins, along with orange slices, pine cones, and acorns. The smell is just heavenly.
Blingy
The grand finale is to tie a bling-y black and red tartan ribbon so we can hang our designs on a door or wall.
However, they don't need to be hung – you can display them as items on a board if you prefer.
Stay alive!
As someone with a somewhat unfortunate history of keeping plants alive, I ask Carolann what I can do to keep my fabulous crown alive.
"It shouldn't need watering for a good few weeks," she says. "But take it out once a week and give it water. It should last quite a long time if you take care of it.
Fall flower workshops are all about using rich reds and oranges, and festive workshops will amp things up a bit, adding cinnamon sticks and the like.
"I've probably made thousands of wreaths and bouquets over the years and I think I could make four or five in an hour!" said Carolann.
"But what I really teach in the workshops is the technique for people to understand the process of what's going on, as well as getting a bit of knowledge about the foliage that we're using.
"Then they can go away and create their own beautiful creations from the comfort of their own homes."
Open to everyone
Although all participants so far have been women, Carolann says the workshops are open to everyone.
"We thought a man was coming to see us, but it turns out he bought the workshop as a present for his wife!" she laughs.
"But yes, everyone is welcome – and we'll make sure everyone who comes has an amazing time and leaves with a few items they can be really proud of!"
Flower workshops at Loch-Hills Garden Center take place on November 26, as well as December 7 and 8. They take place from 10 a.m. to 3:30 p.m. and include all equipment and lunch. Participants will make a hand-tied bouquet and a table decoration or wreath.
Slots are limited and must be reserved with: loch-hills.com/
Visit the Facebook page here.
Already subscribed? Login
[Autumn and winter flower workshops are a huge hit]
[[text]]