Dr Hogan discusses 'one last race syndrome' in seminar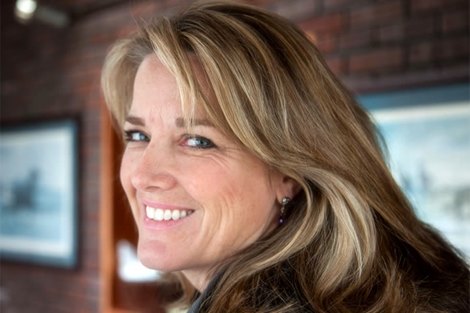 Avoiding "last run syndrome" and knowing when to retire thoroughbred racehorses was the focus of an April 20 presentation by renowned equine surgeon Dr. Patty Hogan. The event, held in Laurel Park, offered continuing education credits to trainers and assistant trainers and is now available on YouTube on Beyond The Wire's new channel here.
Hogan, whose practice is located in New Jersey, said the main reasons for retiring a racehorse are a significant physical problem or a lack of competitiveness. She said retiring to a pasture isn't ideal, so transitioning to a second career is important – and it takes awareness and planning.
"It's up to you to know the follow-up," said Hogan, who highlighted the value of Maryland's Beyond The Wire program. "Tracking is a common topic and part of the racing business plan. If your horse ends up in a bad place, it can reflect very badly on you. It gives you a way out. It protects you, you and your customers.
"The impact of the Internet is really significant. It's a continuous cycle of news and photos. The power of social media is very real.
Register for BloodHorse Daily
Hogan discussed limb fractures and bone bruises (subchondral bone disease), which can reduce chances of a second career for racehorses. She told riders to make sure the right x-rays were taken: "Just getting proper diagnoses makes a difference."
Hogan also said removing bone chips is important to minimize arthritis and help them function longer.
Hogan noted that societal changes over time have altered how some members of the public view horse racing, and these industry participants need to pay attention to horse welfare and public perception. Successful follow-up programs are an important part of the educational process.
"There is a huge partnership between horses and humans in racing, and we need to leverage that for the public," Hogan said. "It's important to know where horses fit in today's world. The traditional racing fan is not the racing fan of today. Anyone can contribute time, money and skills (to the follow-up effort). If the horse wins, we all win. I think we are on the right track.
The event will provide continuing education credits for trainers and assistant trainers and is expected to be posted on the HorsemenU.com website after approval.
Industry press releases – To support Thoroughbred industry organizations, BloodHorse issues industry-related press releases. The versions have not been edited by BloodHorse. If you have any questions, please contact the organization that produced the press release as indicated in the press release.