CUK organizes a seminar on the "structure of sport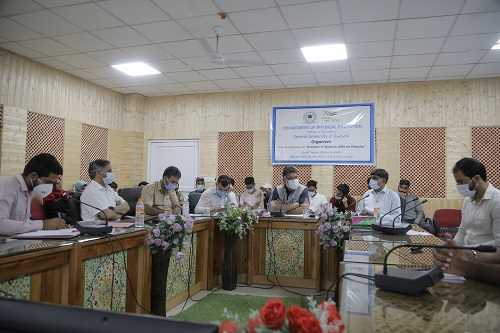 The Department of Physical Education, School of Education, Central University of Kashmir (CUK) held a one-day seminar on the structure of sports in different fields on Thursday.
Speaking on the occasion, the Registrar, Prof. M Afzal Zargar stressed that sports and academics should go hand in hand in higher education institutions. He assured that the university's sports infrastructure will be further developed and improved so that students can use the facilities to channel their energy and showcase their hidden talent.
Addressing the gathering, Finance Officer Prof. Fayaz Ahmad Nikka said that sport not only enriches physical health but also develops leadership qualities, cooperation and social aspect of personality. He added that the sport instills discipline in young people.
In his address, the Dean of the School of Media Studies and the Director of the Tulmulla Campus, Prof. Shahid Rasool said that sportsmen, especially female athletes, have brought laurels to the country by winning medals at the Olympics, Commonwealth Games and other international sporting events.
The Dean and Director of the School of Education, Professor Syed Zahoor Ahmad Geelani, explained the relationship between exercise, physical activity and well-being in human beings.
The Director of Physical Education and Sports of Government Degree College Pulwama, Dr. Faisal Sulleh Hayyat in his opening speech explained the structure of sports in the country and how higher education should establish sports facilities of cutting edge in their institutions to gain recognition at the national and international levels.
During the event, participants of All India University Mini Golf, Pencak Silat & Woodball competitions were congratulated. Yoga instructors who delivered yoga sessions at different CUK campuses during a 3-week yoga workshop held on the eve of the 8th International Yoga Day were also commended.
Assistant Professor Dr. Mohammad Muzamil Shah led the program discussions while as DSW Dean Dr. Mehraj Ud Din Shah offered the vote of thanks.