Activists and scholars discuss the state of Indian democracy and the justice system during a seminar held at the OU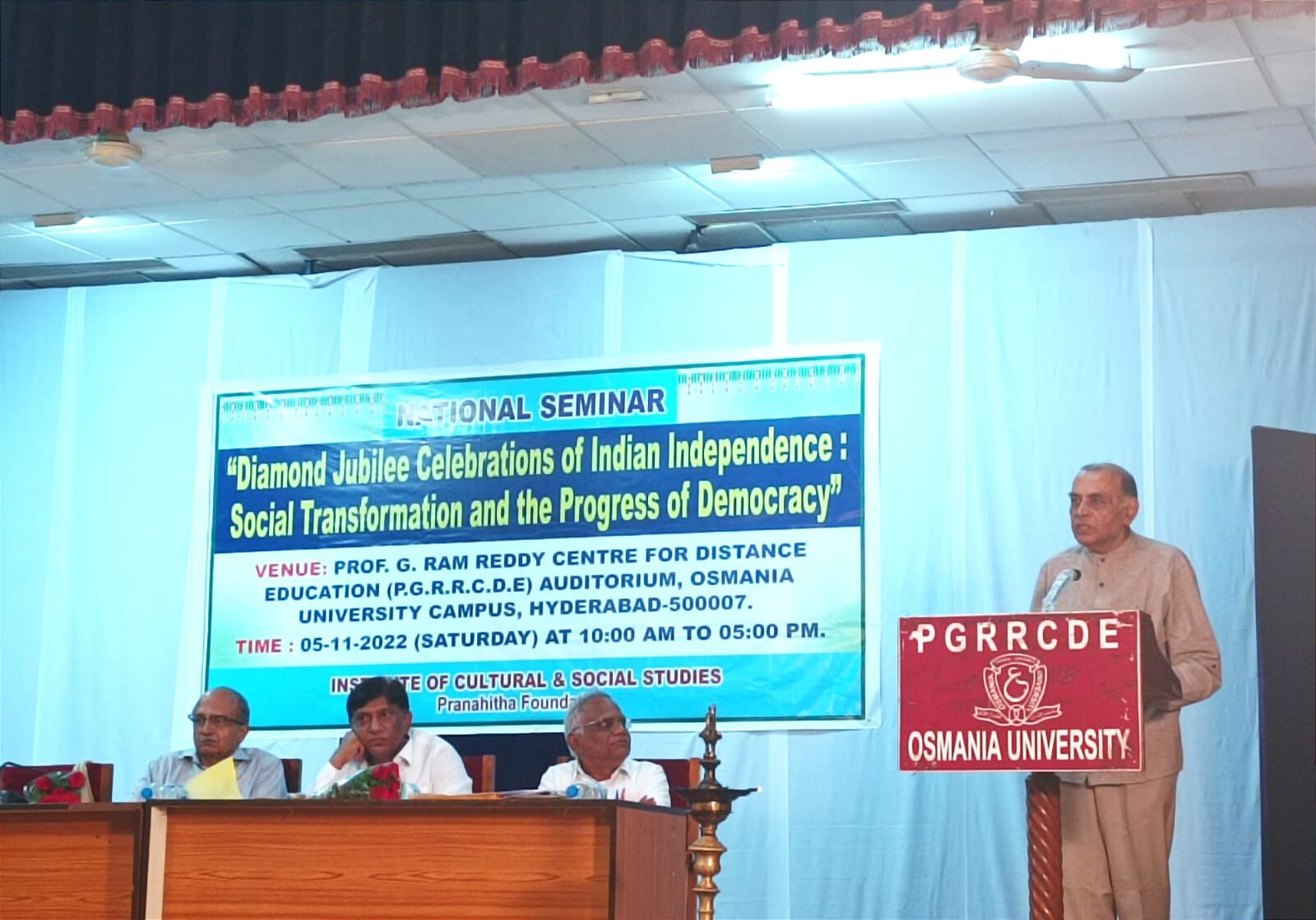 Hyderabad: On the occasion of the Diamond Jubilee celebrations of India's independence, the Institute of Cultural and Social Studies, Pranahitha Foundation, organized a national seminar on "Social Transformation and Advancement of Democracy ".
The seminar was organized at the Center Prof. G Ram Reddy for distance education (auditorium) of Osmania University on November 5th.
Padma Bhushan Prof. Ch. Hanumanth Rao, economist and former member of the Planning Commission; Prashanth Bhushan, lawyer and activist; B. Vinod Kumar, Former MP and Deputy Chairman of Planning Council, Telangana Government; Teacher. Anand Kumar, retired JNU professor; and Professor G. Satyanarayana, former Director of OU, participated in the session.
Prof. G. Satyanarayana, who chaired the seminar, explained how the transformation of Indian society has been faster than ever. He further underscored the need to critically assess, understand and analyze the emerging socio-economic and political conditions of the people in the face of the significant progress made so far.
"We need to look at the need for a second freedom struggle or movement to build a just and progressive society," he said.
Popular participation in policy-making
Speaking at the event, Prashanth Bhushan said democracy in India is in crisis. He also spoke at length about the model of democracy, electoral politics and the state of the judicial system. "Our democracy is not participatory, but representative," he said.
"It's not just about the right to vote, but we have to be involved at every stage of policy-making," he said when talking about the rights and duties of citizens.
Although it is a representative democracy, Mr Bhushan said we can always try to make it as participatory as possible.
Talking about the steps to participate in democracy, he said, "The first step is to decentralize power. Decisions that only affect a group of people should be made by them. For example, the gram sabha or civic bodies of cities should have power. govern themselves. »
The second step is to inculcate the Initiative and the Referendum, he added.
As we are a large population, Mr Bhushan said not everyone's ideas could be accommodated. "But we can take the approach of initiatives and referendums, that is, if 10% of the people of a community or region submit a proposal, that policy or idea should be considered for a referendum. ", did he declare.
Mr Bhushan also suggested that "the bill, before being presented to Parliament, should be made public so that the citizens can express themselves". Hea added, "This will ensure a minimum level of people's participation in policy-making."
On parliamentary committees, he said, "We had planned for important laws to come before the standing parliamentary committees, but these were rendered superfluous under the Modi regime."
Each of these committees has 31 members – 21 from Lok Sabha and 10 from Rajya Sabha. These members must be appointed by the President of the Lok Sabha or the President of the Rajya Sabha. The term of office of these committees does not exceed one year.
He said laws are passed in the form of money bills. "It is illegal, and almost 40 laws have been introduced in this way so far, which means they do not need to be passed in the Rajya Sabha," he added.
Electoral politics
The lawyer and activist said the elections were a gambling game. "Visibility has become directly proportional to the money spent. Political parties that cannot spend huge sums of money are not even visible or discussed," he said.
He further explained that this is also due to not giving importance to voting shares. "A party or a candidate may have a greater share of the vote, but only the one with a simple majority can govern," he said, adding that electoral obligations have no limit and no one can find out who gives the money. Mr. Bhushan asked, "How can anyone claim that anonymity is transparency?
He added, "Seventy percent of the election bond money goes to the BJP, and the remaining 30 percent to all other parties."
Collapse of Justice
Mr. Bhushan spoke at length about the collapse of the judicial system. He felt that "the government should not offer post-retirement jobs to judges, but filing cases against judges is deadlier."
He added, "They try to find any weak link against the judge or any of their close family members to keep them on the government side. Government agencies are used to collect this information."
Later, Padma Bhushan Prof. Ch. Hanumanth Rao explained how globalization has worsened inequalities in India.
The economist said this was due to the socio-economic inequalities already present in the country. "Caste, patriarchy and other social structures have helped already advantaged communities use these fault lines to widen the gap between rich and poor," he added.
Former MP B. Vinod Kumar, agreeing with Mr. Prashanth Bhushan, said: "Transforming the electoral system is the way forward. If there is a need for change in the Constitution, it should be done.
Quoting US President Thomas Jefferson, Mr. Vinod said: "Every generation is a new country.
Speaking of the way forward, Prof. Anand Kumar said non-NDA governments must lead the way. He said there are four ways these governments can show contrast. "Creating jobs, investing in health care and providing better public education are essential. Last but not least, respect for civil liberties. Non-BJP governments should give dissent space to breathe," he said. -he explains.